START - Steps to Action, Recovery, & Treatment
Information to resources to help individuals and families succeed in substance use recovery.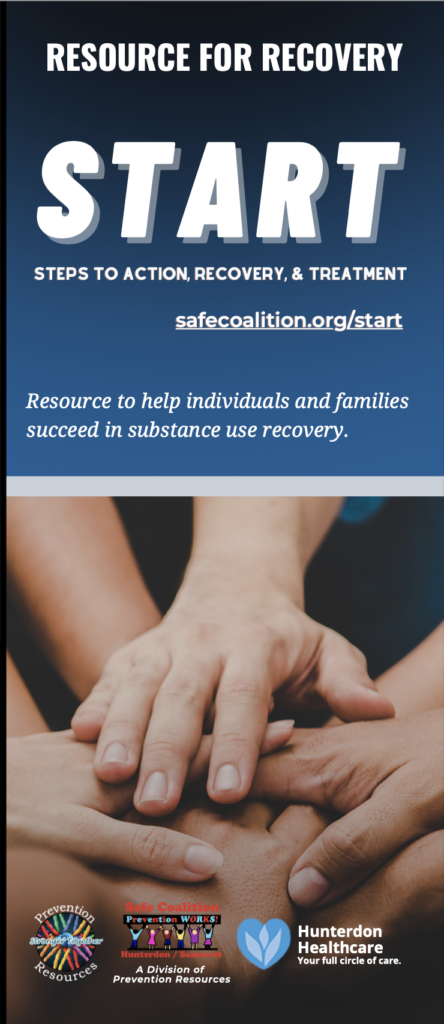 In 2013, Safe Communities Coalition of Hunterdon and Somerset partnered with Hunterdon County Prosecutor's Office, and Hunterdon County Chief's Association to create START (Steps To Action Recovery and Treatment).
First launched for First Responders to provide to overdose survivors and loved ones as a tool to bridge the treatment gap and prevent additional overdose,
START has since become a symbol of reliable resources and information in our community.
In 2021, Safe Coalition partnered with Hunterdon Medical Center and their Residents to develop a tool for healthcare providers to help patients succeed in recovery from substances.
Reaching out to a Recovery Coach can help guide a person to their next steps in recovery. Prevention Resources, Inc. offers free peer support services to individuals interested in recovery. 
Prevention Resources, Inc.'s Certified Peer Recovery Coaches:
For individuals seeking substance use recovery

Individual peer support
Wellness planning
Referrals to no-cost counseling

Cost: No cost
Contact: 908-864-2940
Sharing the Hope Family Support Center of Prevention Resources, Inc.

For loved ones of those struggling with substance use

Support, education, & empowerment

Naloxone trainings with kits

Cost

: No cost

Website

:

njprevent.com/family-support-center

Facebook

@SharingTheHopeFSC

Contact

: Jennifer Denlinger

jdenlinger@njprevent.com

908-309-6203
Free Family Support services offered by Prevention Resources uses CRAFT support model.
Why seek peer support? CRAFT teaches family members how to care for themselves and in turn they may be able to help their loved one. Research studies have shown that family members benefit by reducing their depression, anxiety, anger and physical symptoms.
Safe home storage of alcohol, medicine, or potentially misused household items​.
Keep Naloxone readily available
Perform Care

Through the New Jersey Children's System of Care, PerformCare connects young people and their families statewide to the care they need to be well.
1-877-652-7624 (24 hours a day, 7 days a week)

NJ Connect For Recovery

855-652-3737

Dedicated to opioid addiction, serves both the person struggling with addiction as well as their loved ones.

NJ MentalHealthCares

866-202-4357

Directs callers to appropriate service entry points.

2nd Floor

888-222-2228

Confidential and anonymous helpline for NJ's young people.

NJ Hope Line

855-654-6735 // Peer Support & Suicide Prevention.