Annual Professional Fall Conference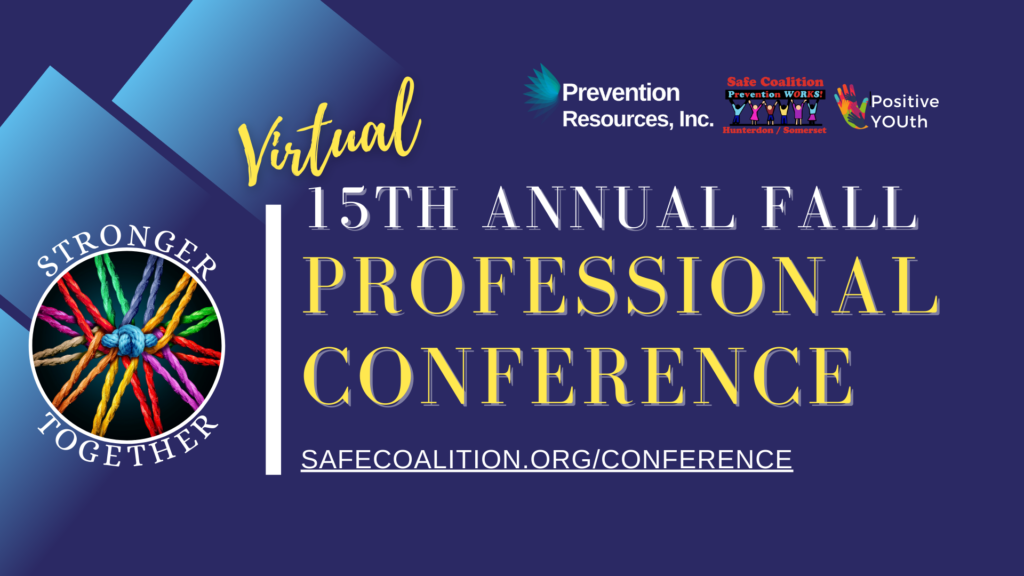 Please join us for our 15th annual Professional Fall Conference on Friday, October 30, 2020.
TICKET LINK: Constant Contact
(http://events.constantcontact.com/register/event?llr=vnbh489ab&oeidk=a07egvzozm47e704a41)
Location: VIRTUAL
Time: 9:00 AM – 3:00  PM
Cost: $45.00

Scholarships available

6 CEUs included, prizes, and more
Speakers 
Dr. Roneet Lev- "Marijuana- Cases from the Front Line"
Dr. Robert Dupont "One Choice for Health: A Data Driven Informed, Youth-Driven Prevention Message"
Kym Laube- "If Only the Prevention and Recovery Community Just Sat Down for Coffee"
Will Jones- "Social Justice Issues Related to Marijuana"
• Dr. Richard McKeon- "Suicide Prevention and Co-Occurring Disorders"
Dr. Brian Fuehrlein- "Denial, Promises, Excuses- Understanding Substance Use Disorders"
…More to be announced!
Contact: Jerri Collevechio, jcollevechio@njprevent.com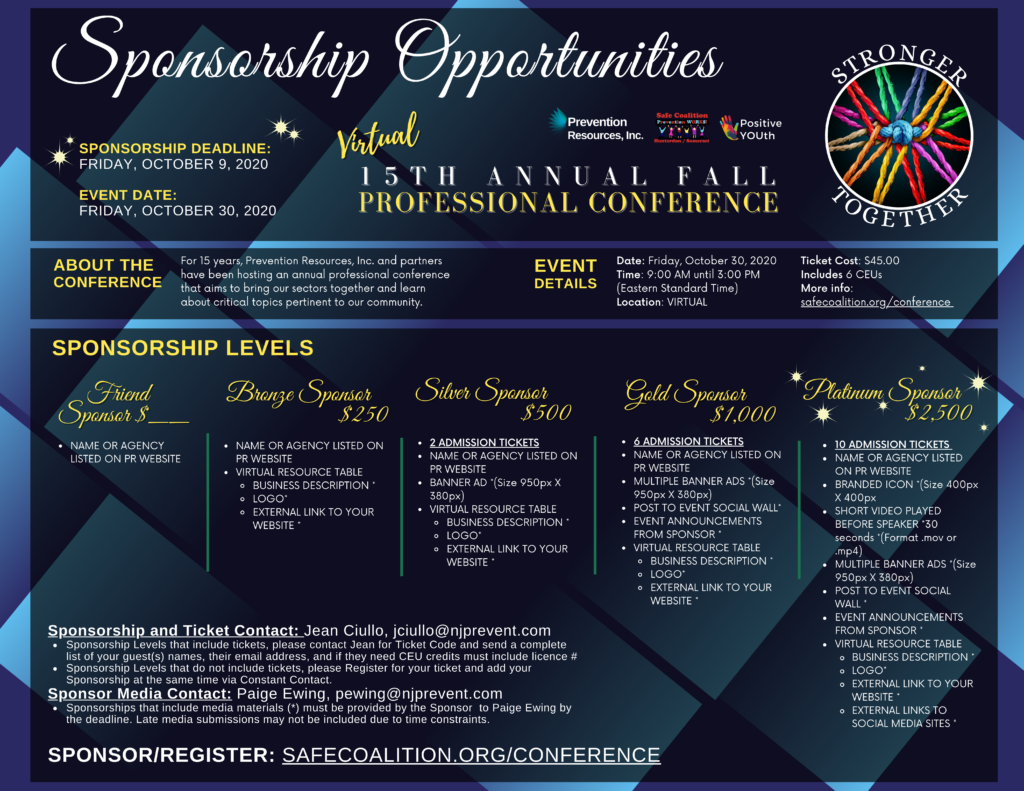 Sponsorship Opportunities
SPONSORSHIP DEADLINE: FRIDAY, OCTOBER 9, 2020
(Tax Deductible 501c3)
SPONSORSHIP DEADLINE: FRIDAY, OCTOBER 9, 2020
Sponsorship and Ticket Contact: Jean Ciullo, jciullo@njprevent.com
Sponsorship Levels that include tickets, please contact Jean for Ticket Code and send a complete list of your guest(s) names, their email address, and if they need CEU credits must include licence #

Sponsorship Levels that do not include tickets, please Register for your ticket and add your Sponsorship at the same time via Constant Contact.
Sponsor Media Contact: Paige Ewing, pewing@njprevent.com
Sponsorships that include media materials (*) must be provided by the Sponsor

to Paige Ewing by the deadline. Late media submissions may not be included due to time constraints.
Sponsor/Register: Constant Contact

http://events.constantcontact.com/register/event?llr=vnbh489ab&oeidk=a07egvzozm47e704a41
Click on Links to view our Annual Professional Conference Journals