Annual Professional Fall Conference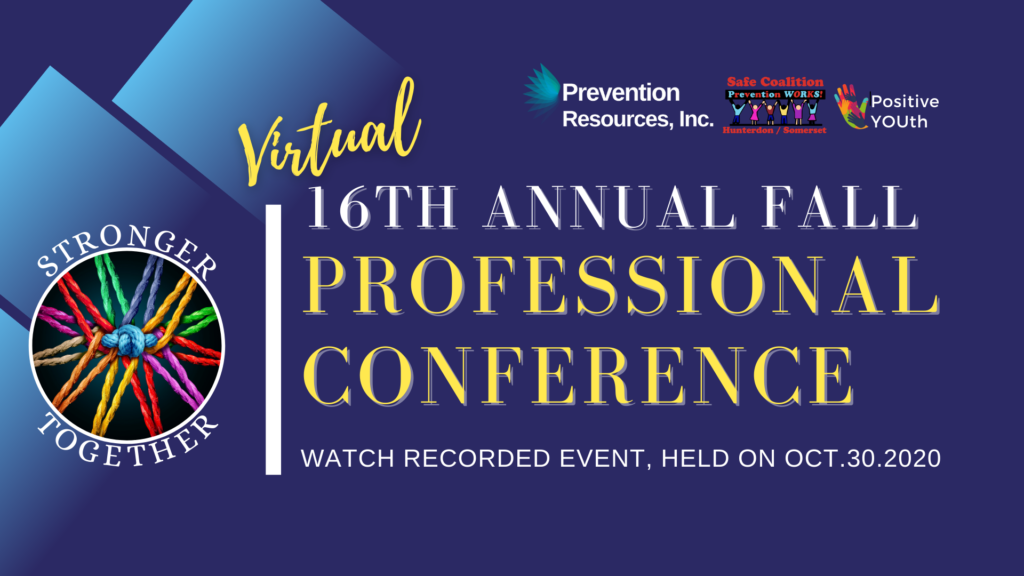 A Special Thank You To Our Sponsors!
Please join us for our 16th annual Professional Fall Conference, recorded live Friday, October 30, 2020.
If you have yet to register, please use this link: http://events.constantcontact.com/register/event?llr=vnbh489ab&oeidk=a07ehby4vnb1441b186
Location: VIRTUAL
Cost: $45.00
Scholarships available
Up to 12 CEUs
Speakers
KEYNOTE

,

Dr. Brian Fuehrlein

– "Denial, Promises, Excuses- Understanding Substance Use Disorders"

Carmen Caldwell – "Overcoming Bias to Create Better Outcomes in Communities"

Christopher Jakim, DEA – "NJ Drug Trends: Opioids, Meth, and Beyond"

David Rosen – "Pride in Prevention: Raising Community Awareness about LQBTQ+ Youth Substance Abuse"

Jeremy Butler – "Bridging the Virtual Disconnect: Creating Engagement in Virtual Spaces"

Keith Murphy and Mariel Hufnagel – "Liberation in Action"
Kym Laube – "If Only the Prevention and Recovery Community Just Sat Down for Coffee"

Dr. Richard McKeon- "Suicide Prevention and Co-Occurring Disorders"

Dr. Robert Dupont – "One Choice for Health: A Data Driven Informed, Youth-Driven Prevention Message"

Dr. Roneet Lev – "Marijuana- Cases from the Front Line"

Will Jones – "Social Justice Issues Related to Marijuana"
Contact: Jerri Collevechio, jcollevechio@njprevent.com
Sponsorship Opportunities
Sponsorship for 2020 Conference is closed.
Those interested in 2021 Sponsorship, please contact Jerri Collevechio at jcollevechio@njprevent.com 
(Tax Deductible 501c3)
Click on Links to view our Annual Professional Conference Journals