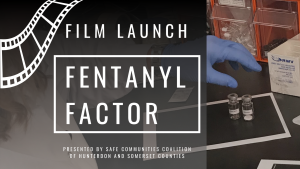 Safe Communities Coalition of Hunterdon and Somerset Counties invite the community, media, and key stakeholders to attend the upcoming launch of their newest documentary, "Fentanyl Factor".
FREE EVENT – includes light refreshments, community film launch, & panel discussion.
Wednesday, January 29, 2020, from 6:30 PM until 8:00 PM, at Raritan Valley Community College (in the Event Center – Conference Center A & B)
RSVP: akovacs@njprevent.com OR www.tinyurl.com/FF-FilmLaunch (Facebook event link)
Event will feature cutting edge drug trend information by Co-CEO Lesley Gabel, CPS. Her work in substance use prevention has been revered on a national platform, and she has traveled throughout the country educating professionals and communities alike.
PANELISTS will include family members featured in the film, Senator Kip Bateman, Former Hunterdon County Prosecutor Anthony P. Kearns III, Acting Prosecutor of Hunterdon County Michael Williams.
ABOUT "Fentanyl Factor" (2020) This film is intended to educate viewers about the role of Fentanyl in the Opioid Crisis. "Fentanyl Factor" includes interviews from local residents and law enforcement effected by the opioid epidemic. Also features interview with a Forensic Scientist inside the lab where real and counterfeit drugs are tested. This film highlights the alarming increase of accidental overdose deaths due to the mixing of fentanyl with other substances such as heroin, cocaine, and counterfeit prescription pills.
Learn more online, visit www.safecoalition.org/ff
Safe Communities Coalition seeks to make our community better through wide spread collaboration, environmental change, and community education in Hunterdon and Somerset counties, addressing areas of concern including, but not limited to, reducing vaping, Rx drug abuse across the lifespan, underage drinking, tobacco, marijuana, and other drug use.
Thank you to the additional funders of this project: Hunterdon County Crime Stoppers; One Voice of Hunterdon County; Rotary Club of Clinton Sunrise; Rotary Club of North Hunterdon; Hunterdon County Partnership for Health; New Jersey Dept. Of Human Services Div. Of Mental Health and Addiction Services.
Special thanks: Prevention Resources, Inc.; Safe Communities Coalition of Hunterdon and Somerset Counties; Raritan Valley Community College; Hunterdon County Prosecutor's Office; Sheriff Fred Brown, Hunterdon County; Flemington Police Department; New Jersey State Police; Deb Len, Central NJ GRASP; Family of Harry Hillard.
Prevention Resources (PR) is a multifaceted service agency, dedicated to respond to and meet the diverse needs of our community members by recognizing the severity of chemical dependency and related issues. This insidious disease touches the lives of our parents, grandparents, and children from all economic and cultural backgrounds, we are here to help. www.njprevent.com