As a result of the COVID-19 quarantine, teens have access to unsecured medicine cabinets 24/7.  
70% of teens state that they obtain addictive prescription pills from their home medicine cabinets. 
We still have an ongoing opioid and prescription misuse crisis.  
 According to njcares.gov, 6,000 people passed away from overdoses from January 2018 – December 2019. In January 2020,  279 people died in New Jersey – 9 families per day are losing a loved one.  You can prevent more overdoses by disposing of unused and expired medications.  In addition, properly prescribed medications can be stored safely in the home in a locked, safe storage box. 

Remove the medicine from its original container and mix it with undesirable substances, such as used coffee grounds or kitty litter.
Place the mixture in a sealable bag or other container to prevent medicine from leaking out of a garbage bag.
Dispose in household garbage.
 Use a Medlock Box or safe to keep medicines out of an easily accessible location, such as a medicine cabinet.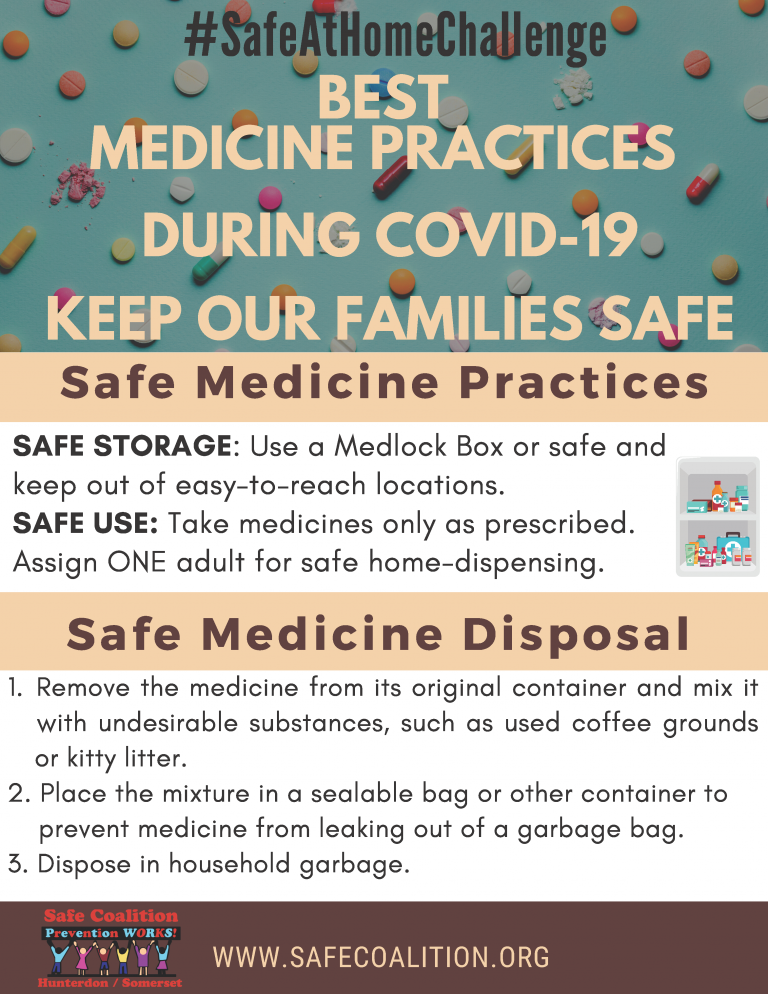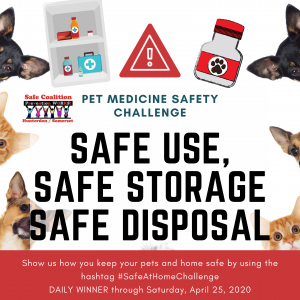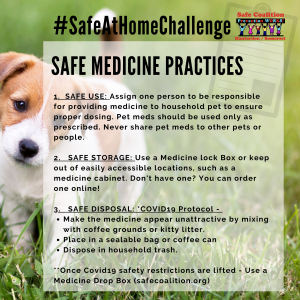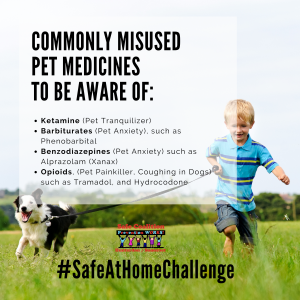 Safe Medicine Practices
1.  SAFE USE: Assign one person to be responsible for providing medicine to household pet to ensure proper dosing. Pet meds should be used only as prescribed. Never share pet meds to other pets or people.
2.   SAFE STORAGE: Use a Medicine lock Box or keep out of easily accessible locations, such as a medicine cabinet. Don't have one? You can order one online!
3.   SAFE DISPOSAL: *COVID19 Protocol – Make the medicine appear unattractive by mixing with coffee grounds or kitty litter.Place in a sealable bag or coffee canDispose in household trash.
**Once Covid19 safety restrictions are lifted – Use a Medicine Drop Box (safecoalition.org)
Commonly misused Pet Medicines to be aware of:
Ketamine

(Pet Tranquilizer)

Barbiturates

(Pet Anxiety), such as Phenobarbital

Benzodiazepines

(Pet Anxiety) such as Alprazolam (Xanax)

Opioids

, (Pet Painkiller, Coughing in Dogs) such as Tramadol, and Hydrocodone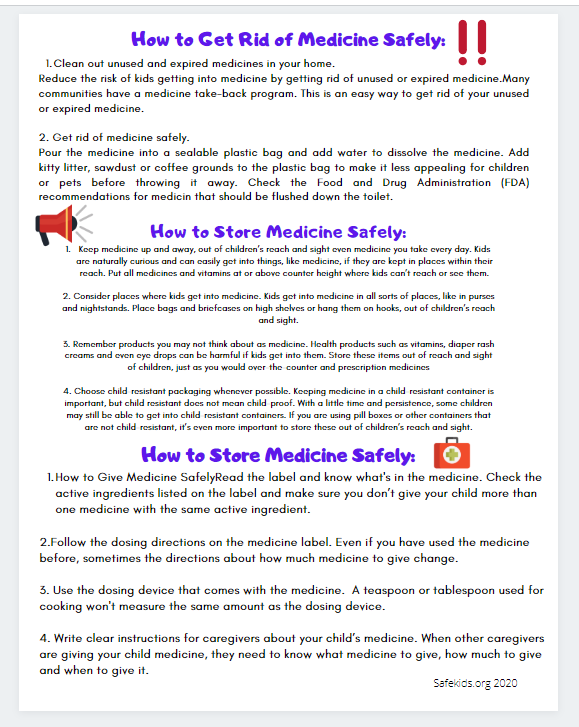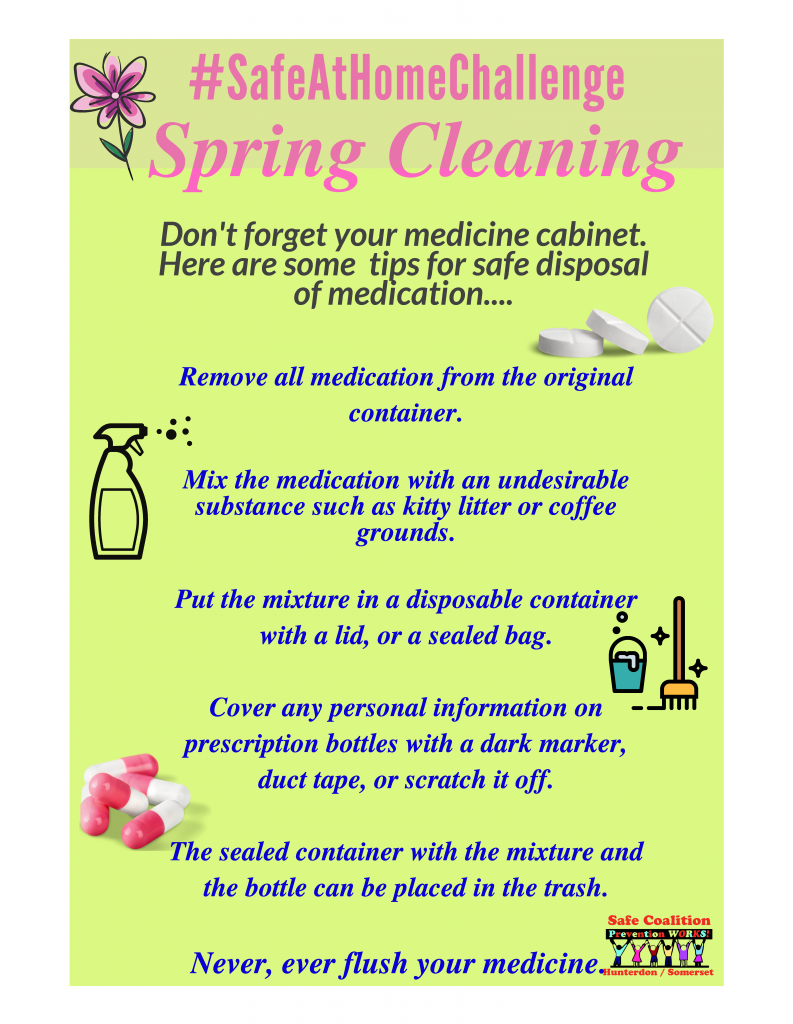 Be Kind to the Environment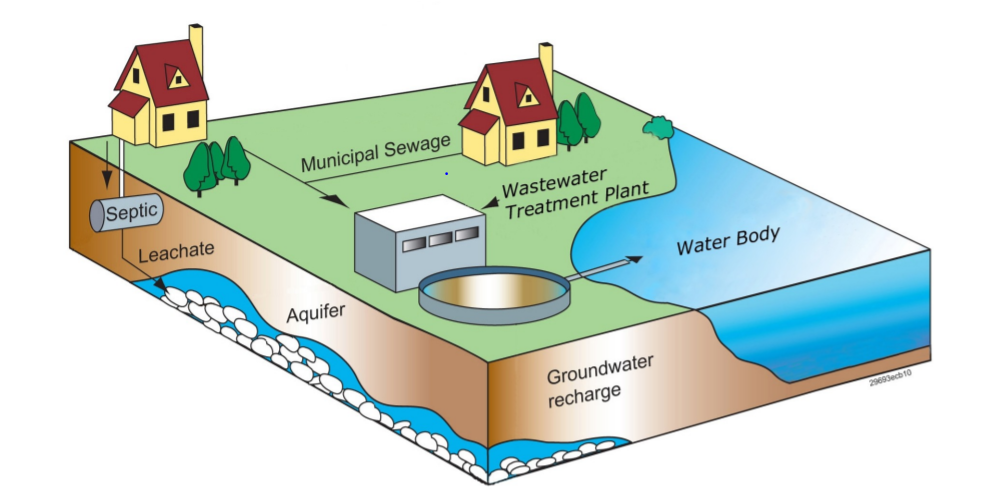 Prevents poisoning of children and pets
Deters misuse by teenagers and adults
Avoids health problems from accidentally taking the wrong medicine, too much of the same medicine, or a medicine that is too old to work well
Keeps medicines from entering streams and rivers when poured down the drain or flushed down the toilet
In homes that use septic tanks, prescription and over-the-counter drugs flushed down the toilet can leach into the ground and seep into ground water.
In cities and towns where residences are connected to wastewater treatment plants, prescription and over-the-counter drugs poured down the sink or flushed down the toilet can pass through the treatment system and enter rivers and lakes. They may flow downstream to serve as sources for community drinking water supplies. Water treatment plants are generally not equipped to routinely remove medicines.
For more information, go to www.epa.gov/ppcp/ Or call the Safe Drinking Water Hotline at 800-426-4791
More information about Safe Medicine Practices